Niigata Koshihikari
Niigata Koshihikari

Niigata Koshihikari rice is famous for having the highest quality rice in Japan.

Koshihikari grown in the blessed natural environment of Niigata Prefecture's granary area "Shibata City(新発田市)", with beautiful and abundant water and weather conditions with a large temperature difference between day and night. It is a brand that you can enjoy the taste of rice.

We have carefully selected rice from the winners of the Shibata Delicious Rice Contest.

Taste★★★★ Aroma★★★ Sticky★★★★


| | | | |
| --- | --- | --- | --- |
| 2kg | S$18 | | |
| 5kg | S$44 | | |
| 10kg | S$85 | | |
About production area
Niigata Shibata City (新発田市)

Located in the northern part of Niigata Prefecture, it is one of the prefecture's leading breadbaskets where rich nature coexists with the Sea of Japan and mountains, and various things such as rice, vegetables and fruits are produced.

Shibata City has all the conditions to grow delicious rice, such as a climate with a temperature difference between day and night, abundant snowmelt water carried by large rivers, and high-quality, fertile soil.
Staff Review
| | |
| --- | --- |
| Japan Hi-Standard rice!shiniy and silky smooth taste. | |
How to choose rice
For a table
It features the deliciousness of rice grains that are cooked plumply.

We provide "safe and stable deliciousness" for everyday meals.
Hokkaido Yumepirika
You can choose the polishing rate and weight of your rice. Please choose the polishing rate of your rice from the dropdown menu below.
・White rice
・70% polished away
・50% polished away
・Brown ricePlease choose the weight of your rice from the dropdown menu below.
・2kg: $27
・5kg: $64
・10kg: $119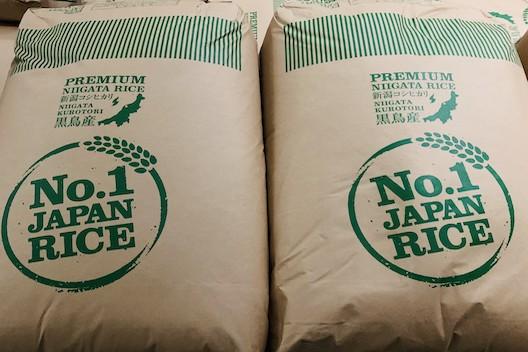 Niigata Koshihikari
You can choose the polishing rate and weight of your rice. Please choose the polishing rate of your rice from the dropdown menu below.
・White rice
・70% polished away
・50% polished away
・Brown ricePlease choose the weight of your rice from the dropdown menu below.
・2kg: $18
・5kg: $44
・10kg: $85